Unity - basic 2D water line
12 December 2013
I just managed to have a 2d water line in Unity 4.3.
I'd like to share a good working base with you, it's not a ready to use solution but it can be a good start for a more complex water line.
It's not that hard to make, but it lacks of buoyancy, droplets, reflection… like I said, it's a start.
Thanks to http://forum.unity3d.com/threads/141925-2d-Water and http://games.deozaan.com/unity/MeshTutorial.pdf
The idea
The line is a list of dots connected by springs.
Then we create a simple mesh (few triangles) between each pair of dots.
Finally, we update the mesh vertices at each update using the new dots positions.
The result
Here's the result with the Sprite-default material: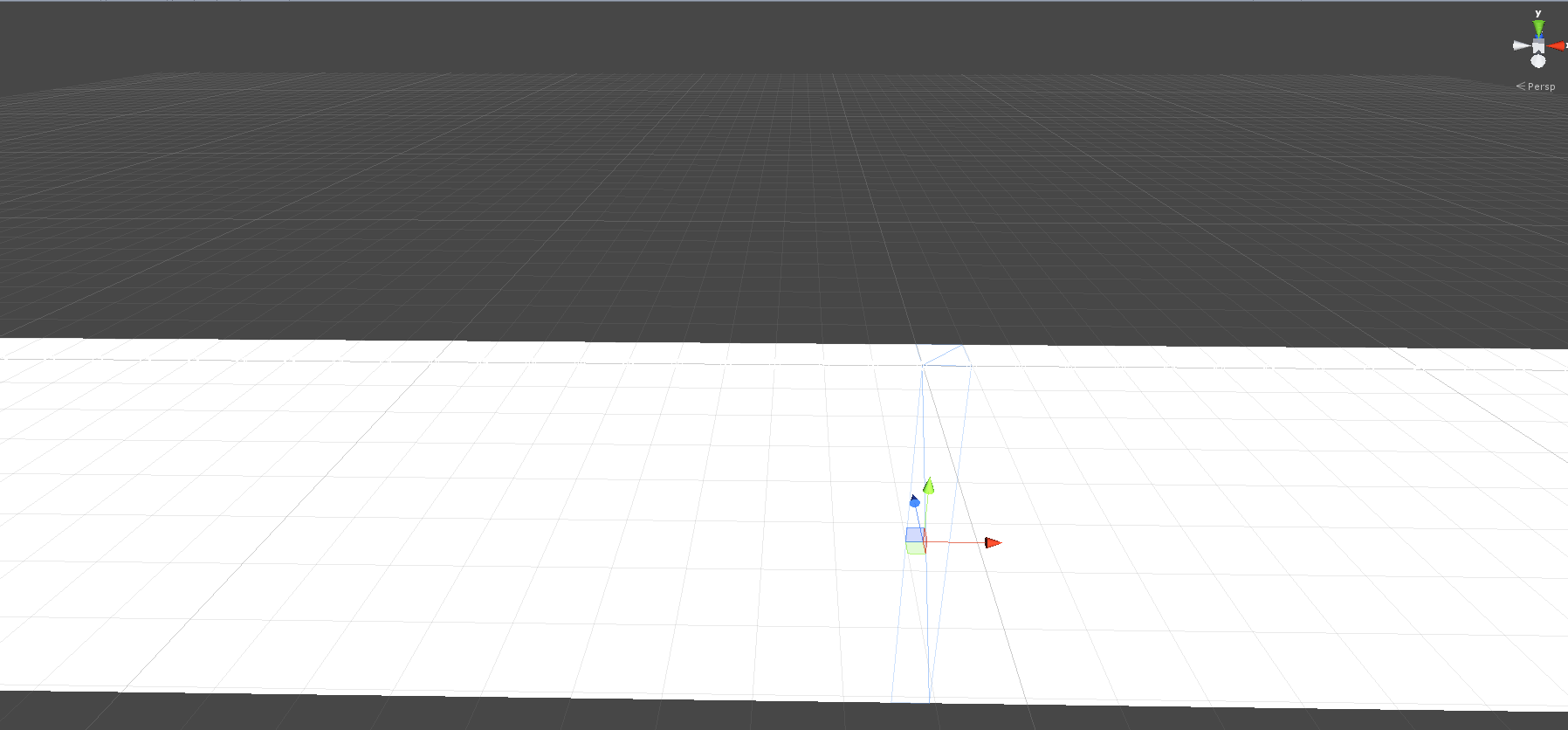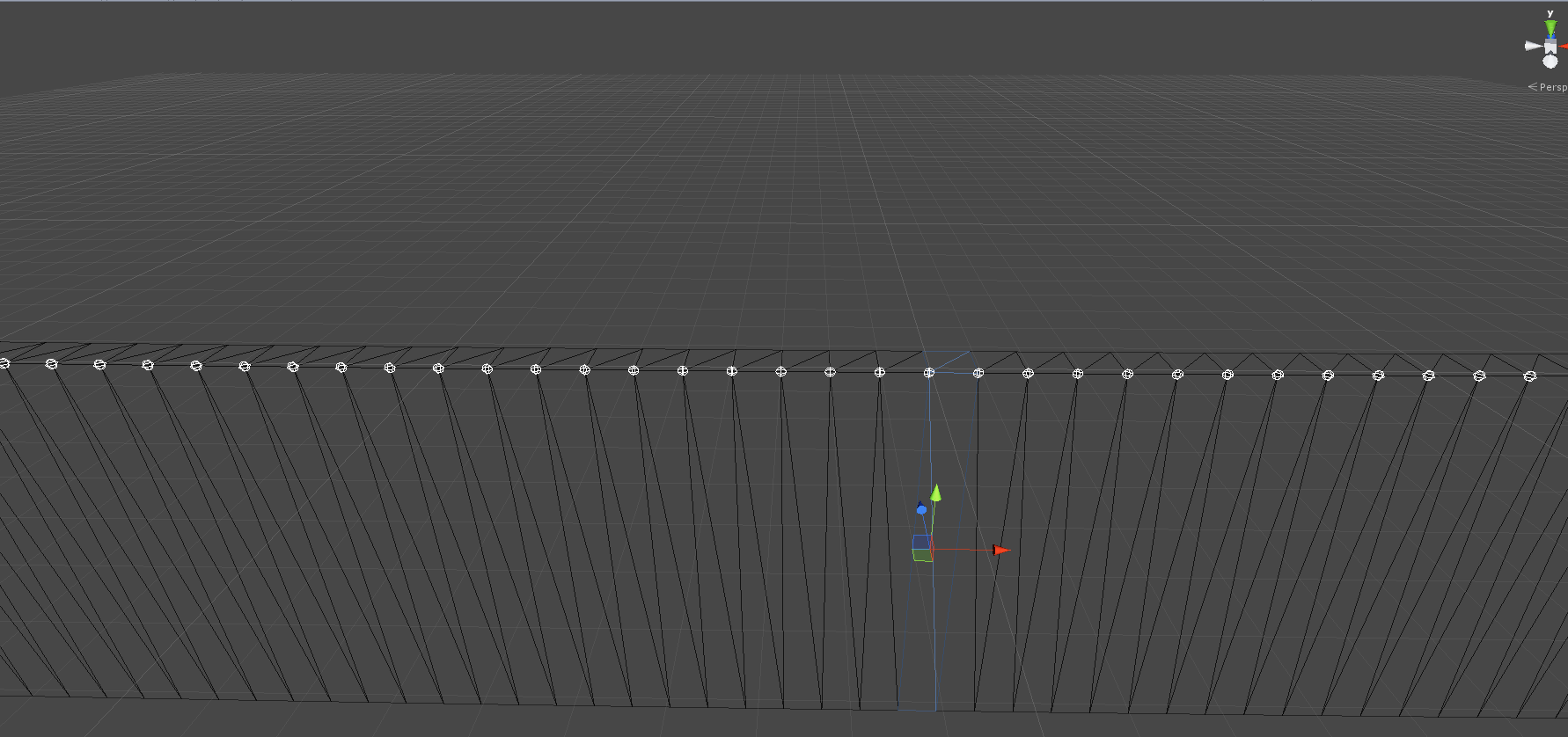 You can probably apply some shader on it.
The script
// Author: Damien Mayance (http://dmayance.com)




// 2013 - Pixelnest Studio (http://pixelnest.io)




//




// This script simulates a simple 2d water line behavior, like you see in many 2d games.




// See http://dmayance.com/water-line-2d-unity/ for further explanations.




//




// Usage:




// - Attach it to an object




// - Then fill the "Material" parameter




// - Start the game (here it is only visible at runtime)




//




// The parameters can be modified during runtime, but for EDITOR only.




// The width and height should stay fixed during the game otherwise.




using

 

UnityEngine

;




using

 

System.Collections

;





public

 

struct

 

WaterLinePart




{


  

public

 

float

 

height

;


  

public

 

float

 

velocity

;


  

public

 

GameObject

 

gameObject

;


  

public

 

Mesh

 

mesh

;


  

public

 

Vector2

 

boundsMin

;


  

public

 

Vector2

 

boundsMax

;




}





public

 

class

 

WaterLine

 

:

 

MonoBehaviour




{


  

public

 

float

 

velocityDamping

 

=

 

0.999999f

;

 

// Proportional velocity damping, must be less than or equal to 1.


  

public

 

float

 

timeScale

 

=

 

25f

;



  

public

 

int

 

Width

 

=

 

50

;


  

public

 

float

 

Height

 

=

 

10f

;


  

public

 

Material

 

material

;


  

public

 

Color

 

color

 

=

 

Color

.

blue

;



  

private

 

WaterLinePart

[]

 

parts

;



  

private

 

int

 

size

;


  

private

 

float

 

currentHeight

;





#if UNITY_EDITOR


  

private

 

bool

 

cleanRequested

;




#endif



  

void

 

Start

()


  

{





#if UNITY_EDITOR


    

// Remove what we see from the editor


    

Clear

();




#endif



    

Initialize

();


  

}



  

private

 

void

 

Initialize

()


  

{


    

size

 

=

 

Width

;


    

currentHeight

 

=

 

Height

;



    

material

.

color

 

=

 

color

;



    

parts

 

=

 

new

 

WaterLinePart

[

size

];



    

// we'll use spheres to represent each vertex for demonstration purposes


    

for

 

(

int

 

i

 

=

 

0

;

 

i

 

<

 

size

;

 

i

++)


    

{


      

// Create a game object


      

GameObject

 

go

 

=

 

new

 

GameObject

(

"WavePart"

);


      

go

.

transform

.

parent

 

=

 

this

.

transform

;


      

go

.

transform

.

localPosition

 

=

 

new

 

Vector3

(

i

 

-

 

(

size

 

/

 

2

),

 

0

,

 

0

);



      

parts

[

i

].

gameObject

 

=

 

go

;


    

}



    

// Create the meshes


    

for

 

(

int

 

i

 

=

 

0

;

 

i

 

<

 

size

;

 

i

++)


    

{


      

GameObject

 

go

 

=

 

parts

[

i

].

gameObject

;



      

// Except for the last point


      

if

 

(

i

 

<

 

size

 

-

 

1

)


      

{


        

Mesh

 

mesh

 

=

 

new

 

Mesh

();


        

mesh

.

MarkDynamic

();


        

parts

[

i

].

mesh

 

=

 

mesh

;



        

go

.

AddComponent

<

MeshFilter

>();


        

go

.

AddComponent

<

MeshRenderer

>();



        

// Define vertices for the mesh (the points of the model)


        

UpdateMeshVertices

(

i

);



        

// Define triangles and normals


        

InitializeTrianglesAndNormalsForMesh

(

i

);



        

go

.

GetComponent

<

MeshFilter

>().

mesh

 

=

 

mesh

;


        

go

.

GetComponent

<

MeshRenderer

>().

material

 

=

 

material

;


      

}


    

}



    

// Small wave


    

Splash

(

size

 

/

 

2

,

 

10

);


  

}





#if UNITY_EDITOR


  

/// <summary>


  

/// SUPER VIOLENT METHOD FOR EDITOR MODE


  

/// </summary>


  

private

 

void

 

Clear

()


  

{


    

for

 

(

int

 

i

 

=

 

0

;

 

i

 

<

 

size

;

 

i

++)


    

{


      

DestroyImmediate

(

parts

[

i

].

mesh

);


      

DestroyImmediate

(

parts

[

i

].

gameObject

);


    

}



    

parts

 

=

 

null

;


  

}




#endif



  

private

 

void

 

UpdateMeshVertices

(

int

 

i

)


  

{


    

Mesh

 

mesh

 

=

 

parts

[

i

].

mesh

;


    

if

 

(

mesh

 

==

 

null

)

 

return

;



    

Transform

 

current

 

=

 

parts

[

i

].

gameObject

.

transform

;



    

Transform

 

next

 

=

 

current

;


    

if

 

(

i

 

<

 

parts

.

Length

 

-

 

1

)


    

{


      

next

 

=

 

parts

[

i

 

+

 

1

].

gameObject

.

transform

;


    

}



    

Vector3

 

left

 

=

 

Vector3

.

zero

;


    

Vector3

 

right

 

=

 

next

.

localPosition

 

-

 

current

.

localPosition

;



    

// Get all parts of the mesh (it's just 2 planes, one on top and one on the front face)


    

Vector3

 

topLeftFront

 

=

 

new

 

Vector3

(

left

.

x

,

 

left

.

y

,

 

0

);


    

Vector3

 

topRightFront

 

=

 

new

 

Vector3

(

right

.

x

,

 

right

.

y

,

 

0

);


    

Vector3

 

topLeftBack

 

=

 

new

 

Vector3

(

left

.

x

,

 

left

.

y

,

 

1

);


    

Vector3

 

topRightBack

 

=

 

new

 

Vector3

(

right

.

x

,

 

right

.

y

,

 

1

);


    

Vector3

 

bottomLeftFront

 

=

 

new

 

Vector3

(

left

.

x

,

 

left

.

y

 

+

 

(

0

 

-

 

Height

),

 

0

);


    

Vector3

 

bottomRightFront

 

=

 

new

 

Vector3

(

right

.

x

,

 

right

.

y

 

+

 

(

0

 

-

 

Height

),

 

0

);



    

mesh

.

vertices

 

=

 

new

 

Vector3

[]

 

{

 

topLeftFront

,

 

topRightFront

,

 

topLeftBack

,

 

topRightBack

,

 

bottomLeftFront

,

 

bottomRightFront

 

};



    

parts

[

i

].

boundsMin

 

=

 

topLeftFront

 

+

 

current

.

position

;


    

parts

[

i

].

boundsMax

 

=

 

bottomRightFront

 

+

 

current

.

position

;


  

}



  

private

 

void

 

InitializeTrianglesAndNormalsForMesh

(

int

 

i

)


  

{


    

Mesh

 

mesh

 

=

 

parts

[

i

].

mesh

;


    

if

 

(

mesh

 

==

 

null

)

 

return

;



    

// Normals


    

var

 

uvs

 

=

 

new

 

Vector2

[

mesh

.

vertices

.

Length

];


    

for

 

(

int

 

i2

 

=

 

0

;

 

i2

 

<

 

uvs

.

Length

;

 

i2

++)


    

{


      

uvs

[

i2

]

 

=

 

new

 

Vector2

(

mesh

.

vertices

[

i2

].

x

,

 

mesh

.

vertices

[

i2

].

z

);


    

}


    

mesh

.

uv

 

=

 

uvs

;



    

// Triangles


    

mesh

.

triangles

 

=

 

new

 

int

[]

 

{

 

5

,

 

4

,

 

0

,

 

0

,

 

1

,

 

5

,

 

0

,

 

2

,

 

3

,

 

3

,

 

1

,

 

0

 

};



    

// For shader


    

mesh

.

RecalculateNormals

();


  

}



  

void

 

Update

()


  

{




#if UNITY_EDITOR


    

// Size has been updated?


    

if

 

(

Width

 

!=

 

size

 

||

 

Height

 

!=

 

currentHeight

)


    

{


      

cleanRequested

 

=

 

true

;


    

}



    

// Recalculate everything!


    

// This should be for the editor only!


    

if

 

(

cleanRequested

)


    

{


      

cleanRequested

 

=

 

false

;


      

Debug

.

Log

(

"Reinitializing water. Make sure we are in editor mode!"

);


      

Clear

();


      

Initialize

();


    

}



    

color

 

=

 

material

.

color

;




#endif



    

// Water tension is simulated by a simple linear convolution over the height field.


    

for

 

(

int

 

i

 

=

 

1

;

 

i

 

<

 

size

 

-

 

1

;

 

i

++)


    

{




#if UNITY_EDITOR


      

// Objects deleted from editor


      

if

 

(

parts

[

i

].

gameObject

 

==

 

null

)


      

{


        

cleanRequested

 

=

 

true

;


        

return

;


      

}




#endif


      

int

 

j

 

=

 

i

 

-

 

1

;


      

int

 

k

 

=

 

i

 

+

 

1

;


      

parts

[

i

].

height

 

=

 

(

parts

[

i

].

gameObject

.

transform

.

localPosition

.

y

 

+

 

parts

[

j

].

gameObject

.

transform

.

localPosition

.

y

 

+

 

parts

[

k

].

gameObject

.

transform

.

localPosition

.

y

)

 

/

 

3.0f

;


    

}



    

// Velocity and height are updated...


    

for

 

(

int

 

i

 

=

 

0

;

 

i

 

<

 

size

;

 

i

++)


    

{


      

// update velocity and height


      

parts

[

i

].

velocity

 

=

 

(

parts

[

i

].

velocity

 

+

 

(

parts

[

i

].

height

 

-

 

parts

[

i

].

gameObject

.

transform

.

localPosition

.

y

))

 

*

 

velocityDamping

;



      

float

 

timeFactor

 

=

 

Time

.

deltaTime

 

*

 

timeScale

;


      

if

 

(

timeFactor

 

>

 

1f

)

 

timeFactor

 

=

 

1f

;



      

parts

[

i

].

height

 

+=

 

parts

[

i

].

velocity

 

*

 

timeFactor

;



      

// Update the dot position


      

Vector3

 

newPosition

 

=

 

new

 

Vector3

(


          

parts

[

i

].

gameObject

.

transform

.

localPosition

.

x

,


          

parts

[

i

].

height

,


          

parts

[

i

].

gameObject

.

transform

.

localPosition

.

z

);


      

parts

[

i

].

gameObject

.

transform

.

localPosition

 

=

 

newPosition

;


    

}



    

// Update meshes


    

for

 

(

int

 

i

 

=

 

0

;

 

i

 

<

 

size

;

 

i

++)


    

{


      

UpdateMeshVertices

(

i

);


    

}


  

}



  

#

region

 

Interaction



  

/// <summary>


  

/// Make waves from a point


  

/// </summary>


  

/// <param name="location"></param>


  

/// <param name="force"></param>


  

public

 

void

 

Splash

(

Vector3

 

location

,

 

int

 

force

)


  

{


    

// Find the touched part


    

for

 

(

int

 

i

 

=

 

0

;

 

i

 

<

 

(

size

 

-

 

1

);

 

i

++)


    

{


      

if

 

(

location

.

x

 

>=

 

parts

[

i

].

boundsMin

.

x


        

&&

 

location

.

x

 

<

 

parts

[

i

].

boundsMax

.

x

)


      

{


        

if

 

(

location

.

y

 

<=

 

parts

[

i

].

boundsMin

.

y


       

&&

 

location

.

y

 

>

 

parts

[

i

].

boundsMax

.

y

)


        

{


          

Splash

(

i

,

 

force

);


        

}


      

}


    

}



  

}



  

private

 

void

 

Splash

(

int

 

i

,

 

int

 

heightModifier

)


  

{


    

parts

[

i

].

gameObject

.

transform

.

localPosition

 

=

 

new

 

Vector3

(


      

parts

[

i

].

gameObject

.

transform

.

localPosition

.

x

,


      

parts

[

i

].

gameObject

.

transform

.

localPosition

.

y

 

+

 

heightModifier

,


      

parts

[

i

].

gameObject

.

transform

.

localPosition

.

z


      

);


  

}



  

#

endregion




}



Enjoy! ;)